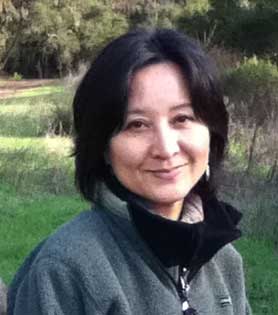 Amana ChungHae Oh, Ph.D. is a researcher of Jomon culture, specifically interested in the worldview expressed in the material culture, particularly pottery decoration. She is the author of "Cosmogonical Worldview of Jomon Pottery," which discusses a symbolical meaning of the number three, using a method of historical comparative structural analysis. After living in the US for nearly twenty years, she is back in Osaka, currently a guest scholar at Asian Research Institute of Osaka University of Economics and Law.
Having been born a Korean-Japanese woman, she devoted herself to social activism to overcome issues surrounding racism and sexism for many years since she was young. She studied social sciences in MA and Ph.D. programs at Osaka City University in order to develop a theoretical foundation for the social change she was striving for. However, through many years of exploration and experience in affecting social change, she started to search for alternatives to achieve the same goal.
In the process of searching for alternatives, she moved to California with her family, originally following her interest in Native American's spirituality. Later, she enrolled in a Ph.D. course at California Institute of Integral Studies where she studied different subjects in the field of humanities. The search led her to studying ancient Jomon culture to inquire into the older layers of worldview in East Asia. After many years of various challenges, including raising two daughters as a single mother, she earned her Ph.D. in Integral Studies in 2006. The subject of her dissertation is on the worldview of Jomon culture, analyzing the structure and motifs of decorations on a specific type of pottery with a human face from Chubu Highlands and comparing it with the ritual motif of rebirth in the same region.
Her academic inquiry is on-going. Her ultimate passion is to integrate ancient worldview about life and creation in overcoming contemporary issues in human relationships.
She is also a long-term meditation practitioner/teacher and vibrational energy healer for the past 15 years. (see: http://www.lumina-creation.com )